His Royal Highness, King Charles III, Patron Campaign for Wool.
"It is abundantly clear to me that we need to make changes to the way we think about the production, use and the disposal of clothing and textiles if we are going to get anywhere near to meeting the United Nations climate change goals set for the industry. A major part of that change has to be moving from a linear system to a circular one, where textiles and clothing are produced sustainably, enjoy long use, and are made using natural materials, specifically wool, which will biodegrade naturally and quickly at the end of their useful life".
Wool is an overlooked planet-friendly fibre, and an informative film by the Campaign for Wool aims to highlight wool's natural eco properties, including its biodegradability, along with circular economy, regenerative farming and feed management in relation to reducing carbon and methane gas emissions.
AWI's marketing arm The Woolmark Company this week launched a powerful marketing campaign highlighting to consumers that synthetic fibres are made from oil, whereas wool is a 100% natural, renewable and biodegradable fibre. The global campaign urges consumers to consider the fibre composition of a clothing product – and choose wool – when they are thinking of making a purchase.
This series of videos outlines the process of sampling, testing and certification of wool growers' classed lots before sale either at auction or directly to dealers or processors. The videos were produced b the University of New England utilising funding provided by AWET via a Small Initiatives Grant. Production was overseen and the narration provided by Dr Emma Doyle.
Sample Receival and Sub-sampling
Vegetable Matter Contamination
Residual Grease and Ash
Staple Length, Strength and Position of Break
The Australian Wool Testing Authority Ltd has produced a brochure, Testing the Wool Clip, which provides a comprehensive overview of its wool testing and certification services. This publication is a little dated as AWTA Ltd's Sydney Laboratory has been closed and the brochure does not cover the introduction of NIR for determination of residual grease and dirt. Furthermore AWTA Ltd Certificates are now distributed as PDF files with printed documents on certificate stationary provided upon request.
Natural Fibre Connect is an online conference taking place on 7-9 September 2022 for the alpaca, cashmere, mohair, and wool industries.
As the effects of climate change and market fluctuations continue to grow, it is more important than ever before to understand the impact on growers and herders at the beginning of our supply chains — their prosperity is vital for safeguarding the future of the sector and making real progress towards our sustainability goals. The virtual event will cover trends, challenges, and innovations within the four industries and how they are impacting growers and herders around the world. In turn, we will look at how the growers and herders themselves are shaping the future of the sector.
The event will welcome over 1000+ guests from around the world, including growers, processors, brokers, manufacturers, brands, NGOs, and government stakeholders invested in the natural fibres sector. As the name of the conference suggests, the focus will be to connect all actors of the supply chain, exchange knowledge and insights and work together toward reaching the Sustainable Development Goals.
The 3 live days are filled with expert speakers, recorded talks, and roundtable discussions aimed at tackling the common challenges of the alpaca, cashmere, mohair, and wool industries.
Attendees will benefit from plenty of networking opportunities including access to the virtual exhibition hall where they can connect with fibre supply chain companies, NGOs, and government organisations invested in making the natural fibre industries more sustainable.
Topics discussed during the three-day conference will be:
Life Cycle Assessment for natural fibres
The realities of animal welfare – challenges growers and herders face
Putting social welfare on the agenda – getting natural fibres to be recognised as the engine of rural economies
How to unlock regenerative agriculture for arid regions
How traceability is reshaping the industry – and our lives
How green finance can support growers and herders
The opportunities for web 3.0 for the textile industry
The event platform is available in English, Spanish, and Chinese. There will be 2 sessions per day discussing the same topics with different speakers: First session (7:00-10:00 UTC) Second session (14:00-17:00 UTC).
An overview of the schedule can be viewed here.
More information and tickets about the event can be found here.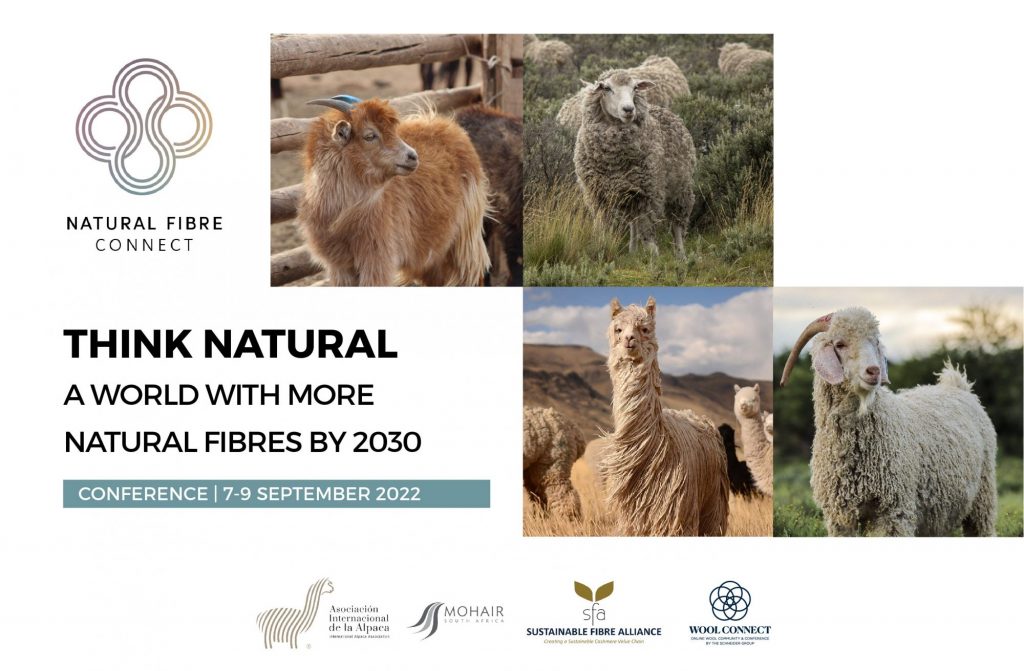 The RAS Foundation provides scholarships to help rural Australians realise their potential through education, make a difference in their community and achieve their ambitions.
To find out more click here.
AWET Provides 30 grants each year to selected students in their final year at a number of Australian Fashion Schools. The students are required to incorporate 80% wool into their final collections.
Curtin University in WA is one of the participating schools and receives 2 grants. Videos produced by this year's graduating students are available for sharing.
Yin Yang, 2021


Designer – Xiaotong Li
Videography – Peter Hayes
This fashion collection uses the concept of Yin and Yang to integrate Eastern elements into Western structures to find a balance between traditional culture and modern trends. Yin and Yang is a simple and broad ancient Chinese philosophy. It is the endless darkness that makes people fear, and it is also the eternal light that makes people breathe. Anything in the world can be Yin and Yang, black and white, day and night, water and fire, reality and dreams, seemingly polarized individuals, each with its own power and mystery. Like the Yin and Yang symbol, the colours of black and white are both contradictory and complementary. The bipolar elements of ethnicity and fashion, beauty and purity, complexity and simplicity, rigidity and softness reach a new harmony under the interaction of Yin and Yang. Heaven and Earth constantly balance, endlessly, and finally constitute all things.
Enduring Archetypes, 2021
Designer – Lily Cribb
Videography – Ashlee McVernon
Existing ideologies and cultural perceptions of fashion invite change. For centuries the formal suit and its accompanying elements have remained consistent European fashion artifacts acting as a vessel for social and political communication. Sustainable fashion, however, is established with natural, flowing and simplistic signifiers. These aren't inherently undesirable qualities, but their association with current sustainable fashion archetypes encourages this perception of mundanity. The combination of sustainable fashion and formal wear in Enduring Archetypes is an attempt to catalyse a change in perception. Natural dyes and wool fibres are used to transform the suit into an object of excitement and necessity, ultimately creating a new sustainable fashion archetype which is environmentally and stylistically more enduring.
The 2022 AAAS conference program is being thoughtfully prepared to entice innovation and blue-sky thinking, and to pull our knowledge and expertise together to make our science impactful to all animal industries. We are not only at the cutting edge of animal science, but we are also in a unique position to help shape the future direction of agricultural and ecological services.
The Sheep Industry Leadership Program is an online program designed to help build leaders for the future.
This scholarship will support the development of leaders and emerging leaders across the sheep industry to:
• Develop your leadership skills and experience
• Make connections with other industry leaders
• Explore industry policy and strategic thinking
• Create your personal leadership development plan
For more information click this link.
Congratulations to ex-student from Tocal College, Emma Pearson, Grenfell on achieving Second place and "Silver Stencil" in the 2022 AWEX/TAFE National Graduate Wool Classer Competition. This was held at the Sydney Royal Easter Show on Tuesday 12 April. The aim of the competition is to recognize excellence in wool classing and education and to lift wool classing's profile as a profession and career opportunity. She was also was the winner of the DAS Campbell prize for the top NSW graduate. Well done Emma!
Emma was a Certificate IV in Ag student at Tocal in 2020 and originally from Armidale. She is no stranger to success being awarded a Bronze Medal for Excellence in the Course. She was also the successful purchaser of Trey, a working dog donated to the College by Ben Crowe of Glenfaba Kelpies and Stock Horses. Emma was among a group of students who helped get Trey, and other pups in the program, started. During her Tocal course Emma was awarded an AWET (Aust Wool Education Trust) Scholarship and a CB Alexander Foundation – Fire and Drought Exceptional Circumstance Bursary. We thank them for their support of Tocal students and are confident that their investment in Emma is a sound one!
The judges of this year's competition were Mr. Andrew Mills, MacDonald & Co Wool Brokers, Ms Evelyn Archer, TAS TAFE and Ms Fiona Raleigh, AWEX. Andrew is also a Tocal graduate and current Alumni Executive.
Click on images to enlarge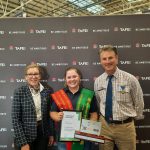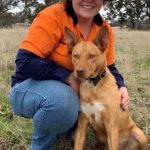 The International Wool Textile Organisation (IWTO) has been marketing wool via its "Campaign for Wool ".
IWTO is certain that wool does matter.
Find out why: