Discover Woolmark's first course tailor-made for Australian woolgrowers – Price Risk Management – on The Woolmark Learning Centre. Learn about the sale of wool with expert-led content created in partnership with industry experts, Southern Aurora Price Risk Management.
This course will take you on a deep dive into risk, risk management products, strategies, and hedging principles. By the end of the course, you will have a greater understanding of price risk management and how its applied to the sale of your wool and will have explored examples of Australian agricultural innovation.
Dr Jane Littlejohn has been nominated by Australian Wool Innovation Ltd to replace Professor Andrew Vizard.
Jane's qualifications include BVSc, MVPHMgt, Grad Dip An Sci (Animal Breeding Mgt), GAICD.
From 2008 t0 2013 Jane worked for AWI  as Project Manager Animal Health and Welfare followed by Head of On-farm RDE.
From 2014 to 2015  Jane served on the Mid-north Coast Strategic Advisory Committee for Primary industries, providing advice to CSU to enhance its role in servicing the educational needs of primary industry.
From 2015-2017 she was Implementation Manager for the National Wild Dog Action Plan.
Jane was re-employed by AWI in the position of General Manager – Research, in July 2017.
Jane is eminently qualified for her new role as AWET Trustee.
Professor Andrew Vizard is a well known and widely respected academic at Melbourne University's Division of Veterinary and Agricultural Sciences and has published numerous scholarly works. He was appointed by AWI as a trustee in 2003 and has served with distinction in that role, providing valuable insights to the Trust's policies and programs. His resignation took effect from the 31st December 2022.
Augmented reality is an evolving technology increasingly being applied in education programs. This is one example. Melbourne University is also creating "Virtual Farms" as a means to educate students in Agriculture Degrees.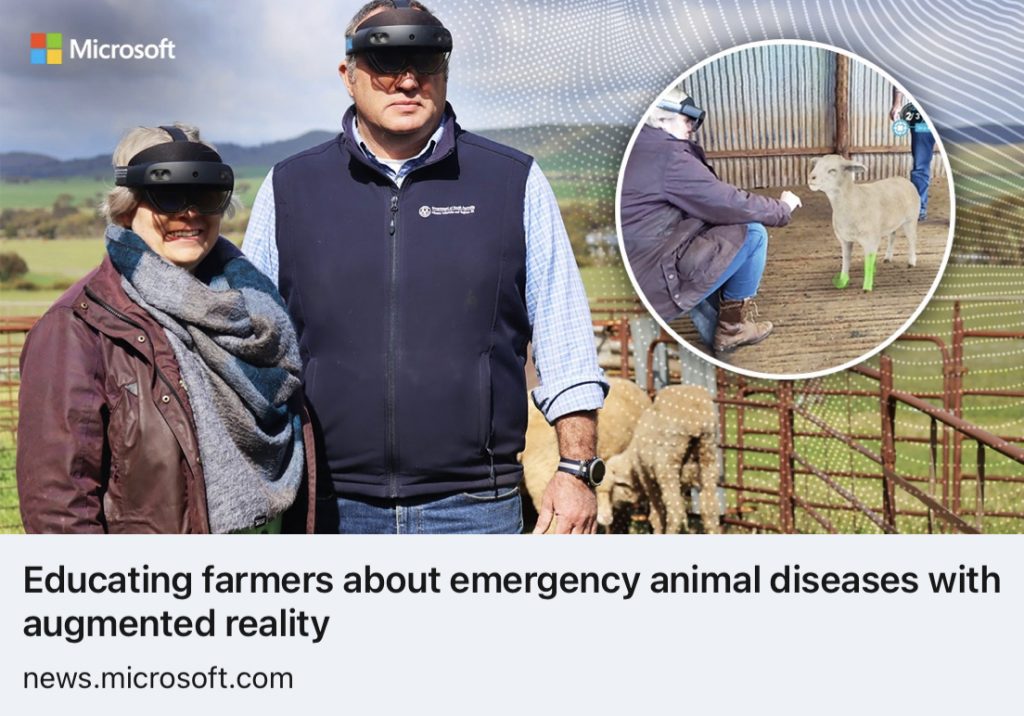 AWI's eNewsletter for wool growers for November 2022 is now available. It includes:
Market Intelligence
Report on AGM 2022
Flood Resources information
Management tools
Purchase of Geelong Textile Group by Australian Textile Investments
Effective residue management
Domestic Processing: Dream of Reality
The December 2022 issue of Beyond the Bale is now available.
Beyond the Bale provides you with the latest information about AWI's R&D and marketing initiatives to enhance the profitability, international competitiveness and sustainability of the Australian wool industry.
The Christmas season is upon us and the Woolmark Company's reminder is ageless

The Trust produces a summary report of its activities each year. These reports are intended to advise the organisations responsible for the appointment of Trustees about the Trust's activities during the calendar year. However, they are also available to the general public.
From 2003 to 2012 these are based on calendar years. From 2012/13 each report is for the financial year and includes the Report, Financial Statements and Auditors Report.
The 2020-21 report is now available.
The IWTO Conference at Tongxiang-Puyuan in China has just concluded.
Known as the Capital-of-Sweaters and the City-of-Fashion, this renowned trade area blends old with new. The ancient water town offers an authentic cultural experience, its tranquillity contrasting with a dynamic industry presence. The complete wool manufacturing chain is represented: spinning, knitting, dyeing, and finishing.The Puyuan sweater market features 15 ready made garment trading areas, 13.200+ retail outlets within 1.7 km2.
Donald McGauchie AO, Chairman of AWTA Ltd retires today after 23 years of service. Donald was appointed as an independent Director in 1999, Deputy Chairman in 2001 and has been Chairman for the past 17 years. Donald brought with him extensive and relevant agricultural experience from his substantial family property, Terrick West Estate, a sheep and cropping enterprise near Bendigo, Victoria and having served as President of the National Farmers' Federation. Adding to this, he also brought important commercial and governance knowledge from his roles on boards of a number of public company boards including Telstra, Nufarm, GrainCorp, the Reserve Bank of Australia and Australian Agricultural Company.
Donald has made a significant contribution to the Australian Wool and Grain industry and was in 2004 appointed an Office of the Order of Australia.
Under the guidance of Donald, AWTA has grown substantially over the past 23 years, including expansion of its footprint and breadth of testing services beyond its wool roots. This has not only protected, but enhanced the financial strength of AWTA over a period when wool production fell significantly.
Donald's retirement from the AWTA Board is effective from 21 October 2022, with current Deputy Chairman Gordon Dickinson appointed as new Chairman. Gordon has been a Director of AWTA since 2005 and has significant business and wool growing experience.
The AWTA Board is also pleased to announce that Alexandra Gartmann, has been appointed as an independent director and Deputy Chair effective from 21 October 2022. Alexandra brings extensive executive agricultural, financial and strategic experience to AWTA. Alexandra's executive career includes senior roles at Bendigo & Adelaide Bank and as CEO of Rural Bank, the Foundation for Rural & Regional Renewal and The Birchip Cropping Group. She is the current Chair of the Victorian Agriculture & Climate Change Council, Trustee of the Helen MacPherson Smith Trust, Director of the Australian Farm Institute and the One Basin CRC. Alexandra was recently appointed to the board of Nufarm.
Further Information:
Contact: Michael Jackson – Managing Director
Email: awtainfo@awta.com.au
Website: www.awta.com.au