Wool Fabric and yarn sourcing guide goes digital.
"The Woolmark Company has launched the first edition of The Wool Lab Digital, a brand-new online platform for its respected wool fabric and yarn sourcing guide, which has been developed in response to the changing need of today's market environment.
First launched 10 years ago, The Wool Lab is a guide to the best commercially available wool fabrics and yarns, created in collaboration with the most innovative and quality-oriented spinners, knitters and weavers from across the world. It has successfully become an important tool for the global fashion and textile industry, with its aim to increase the global demand and use of wool.
However, market changes imposed by the global pandemic – such as the cancellation of trade shows, widespread lockdowns and greatly reduced face to face meetings – meant that The Woolmark Company had to quickly adjust and find new ways to connect and strengthen our global supply change partnerships which is imperative within our industry.
As the solution, The Wool Lab Digital, launched in February (2021), provides a new digital showcase for wool fabric and yarn suppliers and a leading sourcing service for designers and wool buyers. While the structure and functionality of The Wool Lab has been adapted digitally to the times we are living in, the core of The Wool Lab remains the same.
The Wool Lab Digital is freely available to fashion and textile industry professionals in a dedicated area of www.woolmark.com. By simply registering users will be able to look through the guide and choose a selection of wool fabrics in which they are interested for their upcoming collections. Users will immediately receive and email with the detail of their chosen swatches along with the contact information of the applicable manufacturers that the user can contact and request samples.
As well as being in a new on-line format, The Wool Lab Digital has identified the new market trends and product innovations that are most relevant to the current unique global situation. Through these macro-trends, Merino wool reaffirms its position as the ultimate ingredient for both urban and active wear but also for leisure wear."
Source:Beyond the Bale March 2021, Published by AWI.
Link: The Wool Lab Digital
The Trust produces a summary report of its activities each year. These reports are intended to advise the organisations responsible for the appointment of Trustees about the Trust's activities during the calendar year. However, they are also available to the general public.
Permanent links are provided on the home page.
The 2019/2020 Annual Report can also be accessed here – 2019/20 Annual Report
The Trust supports the VET sector via 15 scholarships, valued at $3,000 each, being made available per year to students attending institutions in this sector. However, thus far only two VET Agricultural Colleges have taken advantage of these scholarships:
Applications for these scholarships are made on behalf of the student(s) by the institution at which the student is enrolled.
Tocal Awardees 2021
Justice Charter (Curban, NSW) Cert IV in Agriculture
Dougal Crofts (Kootingal, NSW) Cert III in Agriculture
Hannah Maciaczyk (Biala, NSW) Cert III in Agriculture
Cunderdin Awardees Class of 2020 Graduates

Larz Langford
George Burt
Charlotte Crossen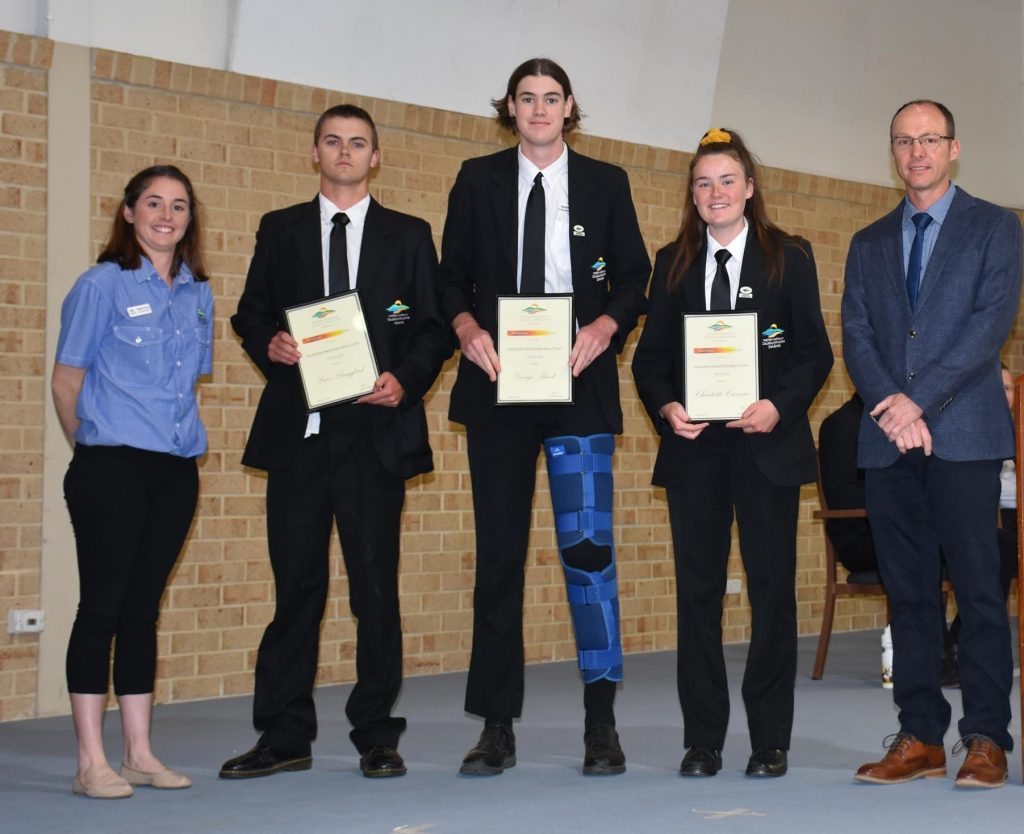 From left to right:
Madison Corsini (Assistant Farm Manager), Larz Langford, George Burt, Charlotte Crossen, Daniel De Beer (Farm Manager)
From The International Wool Textiles Organisation , this video featuring Peter Ackroyd, provides a brief history of wool manufacturing, from its beginnings in Bradford UK at the start of the 19th Century.
Applications for 2021 scholarships close on Friday 20th November 2020.
Applicants must download the following 3 documents:
Scholarship Application Instructions
Applications for these scholarships must be made directly to the Trust and must be supported by an academic referee from the University at which the student is enrolled or intends to enrol.
What is the best way to implement research findings in your flock?
AWI Change Makers is a new initiative which aims to assist woolgrowers in answering this question. With limited face-to-face woolgrower engagement opportunities throughout much of 2020, we will be bringing this to you online.
The first instalment of AWI Change Makers is now released, the ten-part short video series is centred around sheep reproduction topics, from ram health to preparing and managing ewes for joining, pregnancy and lambing and through to weaning management.
Leading livestock consultant, Nathan Scott of Achieve Ag Solutions, Victoria, is recording the AWI Change Makers series from home and will provide you with timely, technical management tips.
Nathan is keen to see the launch of the series which focuses on outcomes growers can use on-farm now.
"It is a great new initiative from AWI to provide research outcomes to growers in a really quick and accessible format. The lack of opportunities for producers to get together and engage with industry at the moment is a real challenge. The AWI Change Makers series is designed to start conversations for producers as we bring them information and help them identify opportunities for change."
To find the videos when released, go online to www.wool.com/awichangemakers or give AWI a follow on our social media platforms below to ensure you stay up-to-date as we demonstrate a range of practical ways growers can influence sheep reproduction with the latest research and tools informed by AWI-funded research, development and extension outcomes.
To follow AWI's social media go to Facebook @AustralianWoolInnovation, Twitter @woolinnovation and Instagram @beyondthebale.
Reproduced from feedback@wool.com, Wednesday 19th August, 2020.
Using residual funds transferred from the Sheep CRC, the Australian Wool Education Trust is funding training in farm management apps developed by the CRC.
Lu Hogan (lhogan5@une.edu.au) is coordinating this training, which is being delivered by Laura Kemmis.
The Australian Wool Education Trust (woolwise.com) has made arrangements to facilitate access to these packages at no cost to students and teachers.
The Young Farming Champions (YFC) are identified youth ambassadors and future influencers working within the agriculture sector.
Australia is the hottest, driest continent with some of the poorest soils on the planet, yet our farmers supply safe, affordable, nutritious food for 60 million people across the globe.
To do this Australian agriculture requires talented people. The program selects emerging young people and then develops their problem-solving, their creativity, their communication and teamwork skills.
The YFC has a two year program Cultivate – Growing Young Leaders designed and run to support young people involved in a broad range of agricultural careers – from farming to consulting to marketing – to be skilled, confident and comfortable to share their stories. This program is now open for expressions of interest.
The program supports selected young people through skills training, mentoring, coaching, networking and by providing them with opportunities to tell their story.
Running since 2009, more than 100 young leaders have been trained in the program.
All the information you need to know about the program can be found by clicking here.
AWI has announced the launch of the Woolmark Learning Centre, The Woolmark Company's digital platform for all wool learning.
This platform is an exciting development and will facilitate the education of all stakeholders in the global wool industry – from woolgrowers to textile engineers, fashion design students, trade, designers, brands and retailers.
Education is a key strategic pillar within our business and the Woolmark Learning Centre will facilitate industry access to knowledge within the global wool supply chain. I'd like to thank the industry experts who have contributed their amazing knowledge and expertise to the creation of the industry leading course content.
Below you will find full details on how to access and utilise the coursework.
---
The digital education platform has been developed by experts and leaders within the textile industry to enable knowledge transfer across the global supply chain.
Free to all users, the platform will focus on the following key content pillars:
| | |
| --- | --- |
| | Fashion and Design |
| | Science and Technology |
| | Sustainability |
| | Innovation |
AWI recommends you begin with the Fundamentals of Wool course which will give you a sound foundation in understanding the wool fibre from farm to fashion. The science and technology program will also serve to extend your knowledge with postgraduate level coursework.
On completion of the course, users will be awarded a Credly badge which we encourage to be link to digital professional portfolios.
Faciliators have extended access to the platform with teaching notes and printable resources available to support face-to-face teaching.
The Woolmark Learning Centre will continually evolve. Once registered, users will be updated when new coursework is available.
For enquires about the Woolmark Learning Centre and to learn how you can integrate the platform into your institute, business or classroom, please contact the Woolmark Learning Centre project manager Penelope Kendall: penelope.kendall@wool.com
You can register here.
AWI releases Beyond the bale – December 2019 in Flip Book format.
In this issue AWI has partnered with the most popular sheep in the world, Shaun the Sheep, during the global roll-out of his new movie 'Farmageddon', in a series of initiatives to educate the public about the benefits of wool.
The initiatives include a unique short animation film titled 'Super Natural Wool' that features Shaun, plus Shaun-inspired educational materials, games and activity sheets hosted on a campaign website