This list of publications was formerly displayed on the personal web page of Professor David Cottle. David is now retired and is no longer maintaining his website. Links to the sheep and wool publications are provided below. All these publications must be purchased.
International Sheep and Wool Handbook: 2nd Edition.  Edited by D J Cottle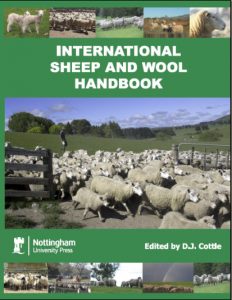 Covering a broad range of topics relevant to the sheep and wool industry, this newly expanded edition containing 11 new chapters and a more international scope discusses future developments in all areas and provides an in-depth review of the meat aspects of the market.  Separated into five distinct sections, the comprehensive survey summarizes the major world sheep and wool industries, biological principles, management, production systems, and the preparation, processing, and marketing of meat and wool. References and web links at the end of each chapter present further sources of information. From paddock to plate and farm to fabric, this overview is a must-have for all those involved in the trade, including producers, brokers, exporters, and processors.
Formerly published by Nottingham University Press the publication rights now reside with Australian Wool Innovation which has a limited stock of copies.
These are available from Australian Wool Innovation (info@wool.com). Alternatively download and use this AWI Order form.
Sheep Farming for Meat & Wool.  Edited by Jane Court, Sue Hides, John Webb-Ware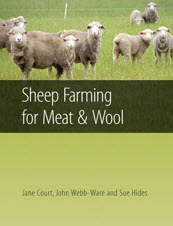 Available from CSIRO Publishing, Sheep Farming for Meat and Wool contains practical, up-to-date information on sheep production and management for producers throughout temperate Australia. It is based on research and extension projects conducted over many years by the Department of Primary Industries and its predecessors and the University of Melbourne.
The book covers business management, pasture growth and management, nutrition and feed management, drought management, reproductive management, disease management, genetic improvement, animal welfare and working dog health. It also gives seasonal reminders for a spring lambing wool-producing flock, for autumn lambing Merino ewes joined to Border Leicester rams, and for winter lambing crossbred ewes joined to terminal sires. It will guide new and established farmers, students of agriculture and service providers with detailed information on the why and how of sheep production, and will assist farmer groups to initiate activities aimed at increasing their efficiency in specific areas of sheep production.
Storey's Guide to Raising Sheep : 5th Edition. Paula Simmons, Carol Ekarius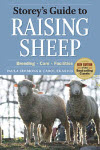 Available from Booktopia. Storey's Guide to Raising Sheep is the best-selling, most trusted reference for farmers and backyard homesteaders with any size flock. The 5th edition is now updated to include full-colour illustrations and photographs throughout, including a gallery of the best breed choices for both meat and fiber. With their small size and gentle dispositions, sheep are one of the easier livestock species to raise and offer varied marketing opportunities, including meat, wool, and milk. Detailed instructions and graphics lead readers through every essential procedure, including shearing, building a lambing shed, breeding and lambing, butchering, and marketing.
Breeding Stud Sheep.  Murray Long

Available from CSIRO Publishing, Breeding Stud Sheep shows how to establish and manage a successful sheep stud. All aspects of stud breeding are covered, including where and how to buy your sheep, selecting the right breeding stock for your stud, flock management, nutrition, disease control, lambing problems, showing sheep, promotion and marketing, and selling stud genetics. The detailed step-by-step strategies will give the reader the ability to develop alternative approaches that best suit their situation.
It also explains how new initiatives such as performance recording, DNA testing and modern reproductive techniques can be integrated with the old, time-honoured traditions of sheep breeding.
Profiles of highly recognised stud breeders are included, detailing how they started and the strategies they have used to grow their stud sheep operations over many years.
This book will help new breeders avoid the pitfalls and mistakes that can occur when starting a new stud venture, and show how to succeed in what is ultimately a tough but very rewarding industry.
Running a Small Flock of Sheep: 2nd Edition.  David G Hinton

Available from CSIRO Publishing, Running a Small Flock of Sheep uses a step-by-step approach and has been written for small-scale sheep farmers and inexperienced people considering a rural life-style change. It will prepare the reader for each procedure and event on a sheep farm.
The book begins with an introduction to the basic principles and procedures of sheep farming and the economics and required farm infrastructure for different sheep enterprises. There are chapters on handling techniques, the obligations of owners, and laws and regulations covering the welfare of sheep. The remainder of the text deals with sheep husbandry including health and nutrition, condition scoring, breeding, lamb care and weaner management. There are separate chapters on wool production and prime lamb production. The final chapter covers the diagnosis, control and prevention of sheep diseases.
This reliable and understandable guide provides all the information anyone needs to make the right choices in successfully managing a small flock of sheep, whether you're running a single pet or several hundred sheep for prime lamb, wool or dual purpose.
Supplementary Feeding of Sheep and Beef Cattle: 2nd Edition.  David G Hinton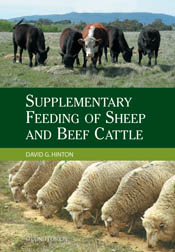 Available from CSIRO Publishing, this practical guide is a tool designed for graziers to use in their day-to-day decision-making about livestock nutritional needs, feeding options, condition and health.
Pasture supplements are expensive and should not be wasted, yet under-nutrition has an even greater economic effect resulting from low conception and progeny survival rates, poor growth rates, failure to meet market targets and tender fleeces in sheep. Supplementary Feeding of Sheep and Beef Cattle shows how to get the nutritional balance right and avoid costly repercussions from incorrect or inadequate feeding.
The key topics covered will be particularly useful in drought situations, but also in seasonal pasture shortages, when the nutrient value of pastures is low. Practical tables and worksheets are provided as key tools, enabling livestock producers to make timely and cost-effective decisions about supplementary feeding.
Working Sheep Dogs
A Practical Guide to Breeding, Training and Handling. Tully Williams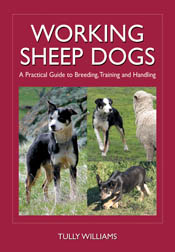 Available from CSIRO Publishing, Working Sheep Dogs examines and illuminates every aspect of the high-quality working dog. It provides a detailed discussion of the principles behind the training of working dogs, and reveals little-known methods for training and handling sheep dogs in the most effortless manner.
The text is divided into six major sections covering the instincts of the working dog, breeding, principles of training, methods of training, handling livestock and sheep dog trials. Photographs and line drawings help to illustrate best techniques when training dogs, such as how to teach dogs to cast, muster and drive.
Containing the first comprehensive breakdown and analysis of the instincts of the working dog, and discussing the various principles and methods of their breeding, this book is a practical reference for farmers and stockmen, hobby and lifestyle farmers, sheep dog trial competitors and breeders of working dogs.
CSIRO Publishing
CSIRO Publishing has a comprehensive range of publications concerning wool. CSIRO Publishing is Australia's leading science publisher of books, journals and magazines.
It operates as a not-for-profit, editorially independent business unit within the Commonwealth Scientific and Industrial Research Organisation (CSIRO). Established as a stand-alone imprint and publishing house in 1995, the CSIRO journals program commenced as early as 1948. Its internationally recognised publishing program covers a wide range of scientific disciplines, including agriculture, plant and animal sciences, chemistry, health and the environment.