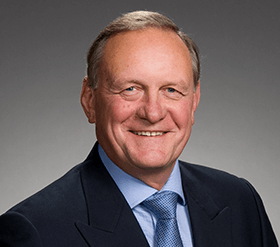 Mr David Ward has retired as Chairman and Trustee for the Australian Wool Education Trust, effective 1st December 2016.
The AWTA Ltd Board has nominated Mr Gordon Dickinson as the replacement Trustee for David, effective 1st December, 2016.
At their meeting on 26th October, 2016 the Trustees appointed Mr Brian van Rooyen (pictured) as Chairman, effective 1st December, 2016. Brian is chairman of Australian Country Spinners and a former director of AWI.
The Trustees moved a vote of thanks for David's contribution to the Trust over his 19 years of service as a founding Trustee and Chairman. David initiated and was responsible for the formation of the Trust by his recommendation for AWTA Ltd to commit $3.0 million of unappropriated profit to ensure the availability of tertiary sheep & wool education in Australia.
Furthermore, David was instrumental in encouraging AWI's decision to contribute $4.0 million to the Trust. As Chairman he provided effective leadership of the activities of the Trust.
I am sure you will join with me and the other Trustees to thank him for his commitment and contribution to the Trust and to Sheep & Wool Education in Australia.