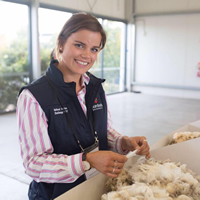 Top young WA university research graduates celebrated at agriculture forum
By Sheep Central, 26 March 2018
MURDOCH University graduate Lydia Inglis was awarded the Young Professionals in Agriculture Forum top honours for 2018 in Perth last week.
Lydia, a student at Murdoch University, was awarded an AWET scholarship in 2017. Her thesis was supervised by Associate Professor Andrew Thompson.
Click here to read the abstract for Lydia's thesis.