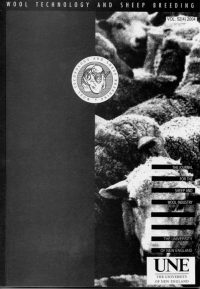 When the Wool Technology journal was first published in 1954 by the University of New South Wales it was a unique vehicle for communicating technical information to sheep and wool industry participants. The journal also provided an advertising vehicle for Merino studbreeders and industry service companies in its earlier years.
There have only been three editors during its life. Professors Pat McMahon and Euan Roberts edited the journal from 1954 until 1976. Professor Roberts remained editor until 1992 when Prof. Cottle became editor. The journal was published from UNSW, WRONZ and then UNE before it developed into the Internatonal Journal for Sheep and Wool Science.
Many journal papers were generated from the annual Wool Schools held at the School of Wool and Pastoral Sciences at UNSW.  School staff and graduates have been responsible for much of the research in the sheep and wool industry with many School graduates taking up research and extension positions in CSIRO, State Departments, Universities etc.
When the journal(s) ceased publication in 2010 the then Editor, Professor David Cottle created an on-line archive using Open Journal Systems (OJS) as a platform. Subsequent to his retirement the management of this archive was transferred to the Australian Wool Education Trust.
The Trust has overseen an updating of the OJS's software and relocated the archive to an OJS server to ensure its longevity going forward.
Consistent with its approach to supporting wool and sheep education the Trust has made access to the archive open source to registered users i.e. available at no fee.
To access the archive use this link Sheep and Wool Journal
OJS is a publishing system providing a submission, review, editing and publishing process that meets the normal requirements for science based publications. However, at this point submissions for publication are not being accepted.